Ted Aragon
Ted Aragon and some of his brothers - Ted is on the right
Now married to Melissa, we have a daughter Elena who is a Junior at Whitman College in Walla Walla, Washington.
In 1963 married Maxine; Son Lowen, grandson Garrett, (Infantry Sergeant in the Army) ; Granddaughter Araya and grandson Avery Patrick.
I am the third eldest in one family of fourteen (14) children; Ten (10) boys and four (4) girls; all still around. (Moms prayer has always been that non of her children predecease her. My prayer has always been that mom live for a very, very long time.)
---
1967- Graduate: Bachelor of Arts; University of New Mexico.
1968 -Graduate: U.S Army OCS; 2nd Lieutenant. **
1970- Graduate School of Economics: University of New Mexico.
1974 -Graduate: Juris Doctorate; University of Denver.
1983- Graduate: Masters of Laws of Taxation; University of Denver.
---
1959-1967- Safeway Stores, Albuquerque, NM.
1967-1970 -U.S. Army; Ft. Leonard Wood; Ft. Bragg; Ft. Belvoir; Viet Nam.
1972-1975- Staff Attorney; U.S. Environmental Protection Agency.
1975-1980-Assistant City Attorney; City and County of Denver.
1980-1981-Landman; Atlantic Richfield Corporation.
1981-1984-Private Law Practice; Englewood, Colorado.
1984-1990-Legal Counsel; Texasgulf Minerals and Metals, Golden, CO.
1990-1995-Senior Attorney; Resolution Trust Corporation, Denver, CO.
1995-Present- Private Law Practice/Semi-retirement/Retirement.
---
**After OCS assigned to a Construction Battalion at Ft. Bragg,; Rehabbed old barracks, also assigned extra duty as Trial Counsel (prosecutions under the UCMJ); Later assigned to Defense Language Institute at Ft. Bliss, Texas (Vietnamese Language Training); Thereafter assigned to MACV in Vietnam; Advisor to Public Works Chief of Gia Dinh Province; Pacification and Vietnamization Programs.
Received Bronze Star and what I recall as the Vietnamese Medal of Honor ( Still looking for the award).
Photo at right: wife Mellisa, mother, Ted and daughter Elena
More Ted Aragon photos from Viet Nam
Kirby Atkinson
Atkinson & Cullin, LLC - Monroe, Georgia
Bob Barnes
Robert "Bob" Barnes is an established leader in the Texas banking industry with more than 30 years of experience. As president and CEO of IBC-Austin, Barnes oversees and directs the bank's activities throughout the entire Austin region. He also serves as president of IBC First Equity, IBC's mortgage division, which specializes in home equity lending and second lien mortgages.
In the summer of 2004, Barnes led IBC's official entry into the Austin market, which was marked by the opening of the bank's regional headquarters downtown at 816 Congress. (In 2001, IBC acquired Austin-based First Equity and made its initial footprint in the Austin market.) As part of his leadership role, Barnes is spearheading IBC's expansion in the greater Austin area organically through new branch construction and community reinvestment.
International Bancshares Corporation, the parent of IBC Bank, is one of the largest banks headquartered in Texas. Currently, IBC operates more than 278 locations and 440 ATMs throughout South Texas and Oklahoma, and as a holding company, IBC has more than $12.1 billion in assets. As IBC continues to expand northward along the strategic I-35 NAFTA trade corridor, Austin and Central Texas will continue to serve as key growth markets.
Prior to accepting this leadership position, Barnes worked for IBC-Houston for three years as a senior vice president and commercial lender. During this time, Barnes honed his expertise in the areas of interim construction lending, mortgage banking and private banking.
Before joining IBC, Barnes served in upper management with some of the Southwest's most competitive financial institutions, including Compass Bank-Houston and Weslayan Bank. At Compass Bank, Barnes was an executive vice president and helped lead the bank's residential and interim construction lending activity. He served as president of Weslayan Bank for six years until the financial institution was purchased by Compass Bank.
An active member of the Austin community committed to IBC's "We Do More" philosophy, Barnes serves as a board member of the University of Texas' McCombs School of Business, the Long Center Corporate Council and Opportunity Austin, an initiative implemented by the Greater Austin Chamber of Commerce's Economic Development Council.
Barnes earned a Bachelor's Degree in Political Science from Randolph-Macon College in Ashland, Virginia and a Master's of Business Administration Degree from the University of Arkansas in Fayetteville He and his wife Laura have been married for 31 years and have three children: Katie, Adrienne and Harrison. He is an avid cyclist and gardener.
More Bob Barnes photos
Clinton A Berry
My first duty posting after OCS and the orientation schools at Ft Eustis was as a Basic Training Officer at Ft. Knox, KY until May of 1969. I then attended another school at Ft Eustis before I went to Vietnam in August 1969. While in Vietnam I spent the first 6 months as a stevedore platoon leader in Vung Ro Bay unloading deep-draft cargo ships and LSTs loaded with PX items and a lot of bombs and munitions in primary support of the Tuy Hoa Air Force Base. The last six months in-country were spent running truck convoys about 80 miles between Vung Ro Bay and Qui Nhon, with occasional trips to Pleiku. I was the supply and property book officer in both companies- the one in Vung Rho Bay and the truck company in Tuy Hoa. I had to travel quit a bit to Saigon, Cam Rahn, Qui Nhon, Pleiku, etc which I usually did on either an AF C-130 or a Huey. Sometime I would hitch a ride in a single engine Piper with an air observer. Those guys are crazy!
In July 1970, despite the typical enticements of re-enlistment, I turned it down because I knew that I would come back to the states for a few months and then probably go back to Vietnam. I felt that I had been very lucky after having been involved in several truck convoy ambushes and did not want to take that chance again, so I rotated back to the states and was discharged at Ft Lewis, WA in August 1970. Since my dad was in the Real Estate and Home Building business in my hometown of Owensboro, Kentucky I started working on homebuilding crews after I got back. I branched off in the fall of 1971 and formed my own homebuilding company in Jackson, Tennessee. When the economy soured in 1974, I got out of construction and I went into management for The Wickes Lumber Company, first at the store in Jackson, Tennessee and a few years later at the store in Owensboro, Kentucky, my hometown.
In 1973, while in Jackson, Tennessee I got married to Ann Sanders (a school psychologist) from Tullahoma, Tennessee and we had a son, Ian, in 1977. Ian is now 36 and lives in Murfreesboro, Tennessee. He worked for Outback for about 12 years but got out of the restaurant business and now works for his uncle's packaging and distributing business in Murfreesboro.
In 1978, I resigned from Wickes Lumber to return to Graduate School full time where I earned an MBA in Dec 1979. In 1980, after Graduate School, we relocated to Nashville and I went to work managing energy conservation and renewable energy programs for The Tennessee Energy Authority, initially, and then, for The Tennessee Department of Economic and Community Development after it absorbed the Authority. I retired from the department after 30 years' service in July 2009.
I got divorced in 1985 and I have been single since then but have had several lady friends along the way- some of which I probably should have married and quite a few that I am glad I didn't.
I have now been retired for almost 4 years and have been traveling quite a bit and continue to be active in my long-time, favorite hobbies of hiking, archery and shooting (pistol and rifle). Back in the 90s I traveled quite a bit around the southeastern US competing in both archery and shooting tournaments . I have also hiked lot in Yellowstone NP, the Tetons and here in Tennessee. I still travel to archery tournaments around the state but am not traveling so much to compete in rifle matches because that got to be too much work. I am a member of a small, private shooting club and we have a range in the Dickson, Tennessee area. We get together a couple times a month for friendly matches. I am the secretary/ treasurer of The Tennessee Archery Association and the Tennessee State Director for The National Field Archery Association.
I am now gearing up for a Stephan D. Ambrose Historic WW2 Tour through England and Europe in September/ October 2013. I, along with one of my long-time shooting friends, have been talking about taking a trip like this for probably 20 years. We will be in England, France (Normandy), Belgium, Luxembourg, Germany and Switzerland for about 29 days total. To me, it is the trip of a lifetime.

More Clint Berry photos
Buck Bodwell and Family
Buck graduated from Virginia Commonwealth University with a Bachelor's degree in Business Management in 1967. He married Carol Brooks in July and entered the US Army in October 1967. In August, 1968, Buck was commissioned a 2nd Lt. He remained in the US during the Vietnam War teaching Railroad Science at the Transportation School at Ft. Eustice. In 1972 He graduated from George Washington University with Master's Degrees in Personnel Management and Computer Science Management. Later he went to work for Electronic Data Systems (EDS) on Wall Street in NYC on the DuPont Glore Forgan account. In 1974 he transferred to Dallas, Texas and managed Employee Relations, Employee Benefits and Corporate Insurance. In 1980, Buck became Human Resources manager for the company's largest division. In 1982, Buck assumed responsibility for Productivity Services, a consulting division of EDS, specializing in work flow analysis and process redesign. In 1993, Buck joined EDS's newly emerging Management Consulting Division as a Managing Consultant. In 1996, Buck became head coach for High Performance Teams at EDS. Carol is also a 1967 graduate of Virginia Commonweath University. After college she taught elementary school for five years in Richmond, Ft. Belvior, and Newport News. She then embarked on a career as a professional volunteer. She is currently director of the Community Food Pantry in McKinney, Texas, teaches Aerobics at the Princeton Community Ed Center and is President of the Princeton, Texas School Board. Jim Bodwell graduated from North Texas University and is now a District Sales Manager for Sysco Foods in Dallas. Son Stephen graduated from Texas A&M University where he was Executive Officer of Company D2. He is currently employed as a Financial Officer for Maverick Capital, a Dallas based hedge fund. Son John works for State Farm as a Manager on the Disaster Team. In 1999, Buck retired from EDS and established PT Consulting Partners an internet marketing firm. Buck plays golf, sings in the St. Peters Episcopal Church choir in McKinney, Texas and walks 6 days a week 3 to 4 miles a day. Buck and Carol live in the country on 5 acres north of Princeton, Texas. They have 3 awesome grand children: Leah age 9, Jack age 4, and Ellie age 4. Fortunately, they all live in the Dallas area.
David Callan
After OCS and transportatiopn training at Ft Eustis, I spent 1 year at New Cumberland Army Depot in Harrisburg, Pa. "managing a desk" before going to Viet Nam in Aug. 1969. I was assigned to the 285th Transportation Company in Qui Nhen as a port operations officer with responsibility for supervising the discharge of Sea Land container ship and frozen food refrigation ships. After 9 mth. we were transferred to Da Nang... both very safe assignments.
After returning from Viet Nam, I went to work for Pan American World Airways training for 6 mths in New York working for 2yrs at LAX and SFO.
This was the beginning of the decline for Pan Am and I was layed off in 1975.
Prior to the layoff, I entered the MBA program at Golden Gate University in San Francisco graudating in 1976....Thank you GI Bill.
In 1976, I married a Pan Am, flight attendent...the "okie from Muskogee." and moved to Tulsa in 1978....a great place to raise children and go to church on Sunday. Christine was born in 1978 and Kurt in 1984. I worked a number of years in marketing for two large banks. In 1990 we purchashed Daniel Screw Products...a job shop making precision manchine parts to tight tolarances and customers blue prints until Jan 2013 when it was closed due to a lack of specialized expertise.
During this time, Marie had two breast cancers and died in Oct. 2010 of small cell lung cancer.
Hobbies and interest over the past few years has included membership in Downtown Tulsa Rotary club and landscaping. Bike riding and swimming has enabled me to play tennis 2-3 times a week on two knee-replacements. I have recently returned to playing golf because of a strong interest of my son.
Peter Capolino
Peter founded Mitchell & Ness Nostalgia Company shown here with wife Fran.
Bob Cournoyer
The interaction for a lot of us is amazing. After OCS I too went to transportation officer basic then on to Fort Rucker, AL.(General Staff) I was there for about six months when my orders came down that I would be going to Ft Lee, VA to attend Officer Supply School and then on to Vietnam in late July. I was assigned to USARV HQ at Long Bien (ACS Comptroller's office). I don't remember the General Dillard incident however. I do recall however being in the officer's mess a couple of times and sitting next to Col. Rheault (Green Beret) and couple of his officers who were being court marshaled for their interrogation of prisoners. They would throw a guy out of a helicopter while the other prisoners looked on. Believe the Col. Was found not guilty. After about six weeks at USARV I was sent to Cam Rahn Bay to II Corps general staff, investigating the general's non-appropriated funds, that is; officer, NCO clubs, PXs, etc. BG Delmar was my CG. Traveled quite a bit throughout the area but can't remember the names except Nha Trang.
What amazed me the most with my military experience is the fact that I was never assigned to one MOS I was trained for, but to my college degree in accounting. That ended up being quite an asset, as when I interviewed for a field audit position at the Aetna Life & Casualty Ins. Co., the manager was a LTC in WWII and Korea. I was hired on the spot and spent 28 years there. Also worked for the Dept. of Revenue Services, State of Conn. for 12 years. Enjoying retirement in CT as well as at Cape Cod MA. In my spare time I make wooden cremation urns for indigent veterans.
Larry Creekmore
After OCS, I spent two months at Fort Eustis at Basic Transportation School and then Nancy and I took off for the San Francisco area where I was stationed at Oakland Army Base. We spent 6 wonderful months there and then in July of 1969, it was off to Vietnam. I was stationed in Saigon with the 4th Transportation Command and we unloaded all the cargo in the ports of Saigon, Cat Lai, and Vung Tau. I was not in any combat and Saigon was relatively safe while I was there. Was actually in Cambodia once (didn't know it at the time) looking for some lost cargo.
When I returned from Nam in March of 1970, I took over a family retail grocery business in Bolivar TN. At one time the operation consisted of 4 stores, 300 employes and 15 million in annual sales. We got caught up in the Wal-Mart onslaught and Nancy moved to the Destin FL area in the fall of 2001. I stayed in Bolivar and tried to salvage the operation but finally sold what remained and I moved to Florida in May 2003. Nancy is now the Executive Director of the Limited Partnership that owns the Sandestin Hilton Hotel and I am a Registered Representative of Lincoln Financial Securities, Member SIPC. I also offer life and health insurance to my clients. Nancy and I have been married for 46 years and we have three daughters, Laura, Allison, and Sarah. All three got married within 5 months in 2008. Picture above is our entire family--three daughters and their spouses and our four grandchildren. Creekmore Financial

Tom Dilitush
Here is a little background summary of my life since OCS graduation. Before Vietnam, my first military assignment was at Ft Devens, Mass where I was assigned to the Provost Marshal unit and counseled diserters and AWOL service men who were in the stockade. Ft. Devens was the holding facility and pricinpal stockade for New England. My job was to work with a military psychologist for prisoner assessment of fitness for military duty. Many prisoners (enlisted and few officers) received 212 discharges from the service there. I married my wife, Linda, in 1969 and lived in officer housing at Ft Devens until August 1969 when I received orders for Vietnam.
After serving in Vietnam as an aid-de-camp, I was discharged in August 1970 and went to work in New York City and spent my career with several companies as a human resources officer and director. I retired from the Federal Reserve Bank of New York in April 2011.
Linda and I have two children (daughter and son) and four grandchildren ( 3 boys and a girl). We have lived in Kinnelon, NJ, a NYC suburb, for 35 years. My family spends the summer at Point Pleasant, NJ. (I'm currently managing the rebuild of my Dad's home (he is 95) in Point as it was flooded during the Sandy Superstorm.) Linda and I like to travel in the U.S. and Europe. In Feb 2014 we are taking an 18 day trip to Thailand, Cambodia and Vietnam. I want to show her where I was stationed with the First Logistical Command (Vung Tau) and USARV (near Siagon), and see how the area has changed in 40 + years.
Stu Eaton
Stu and Sandy Eaton -beard and mustache now gone
The candor and humor of my classmates in 515H astounds me - the stories are great!! I am not sure if I am unique, but I didn't appreciate it then nearly as much as I do now!! The detailed memories of those who have posted memories is great! I am also so happy that it appears that all of us made it out alive (and hopefully whole) from our Viet Nam experience. Some of us have passed on since, which is unfortunately how life goes. I am hopeful, that we are enjoying, or at least anticipating, retirement. I look forward to our reunion!! Many thanks to Buck Bodwell, Jeff Fishman and Rob Creekmore (and possibly others) for their initiative to get this going!! There will be "rewards" @ the reunion for you from many of us, I am sure!!
Hopefully what we all learned at Ft Belvoir and the rest of our time in the Army paid many dividends to us through our personal and work lives. One dividend I enjoyed was that my military experience and background was a key factor in securing two jobs, especially the position I retired from after 25 years. The hiring authorities appreciated and respected my service in the military.
Following our graduation from OCS, many of us attended the Transportation orientation course at Ft Eustis. This was a country club compared to our time at Ft Belvoir. My first PCS was Japan at Camp Zama, at Headquarters USARJ in a staff position, totally unrelated to Transportation. Fortunately, after about six months, I was able to transfer to Transportation Directorate. As (good) luck would have it, the job was as Assistant Air Traffic Coordinating Officer, responsible for supervising the air freight section. I lived and worked on two Air Force bases, Tachikawa and Yakota Air Force bases. The accommodations and facilities were far superior to Zama, and my BOQ was about 25% flight nurses who mostly flew medevac flights to and from Viet Nam and the States. My office was right on the flight line at Yakota. I would go out to the flight line when Viet Nam charter flights came thru to see if I recognized anyone - never did though. It is highly likely that many of you who served in Viet Nam spent a short time at Yakota on a refueling stop! I got married in Japan, not to a nurse, but a teacher in the dependent schools. Additional information from Stu Eaton
Jeff Fishman
1.As those of you know who were in the Nam it gets very hot! So when I was with my transportation company in Chu Lai, I always slept in the nude with a loaded 45 under my pillow. One evening, someone was shooting up the company area and so I straped on my 45 and went running out into the compound to find who it was. I saw a Sgt. E-6 and asked him who the hell was shooting up the area and he swung around with his M-16, pointed it at my head and asked who the hell wanted to know. Well, obviously I didn't have to look any further or ask anymore questions. As a matter of fact I thought I was a dead man. The Warrant Officer in my hootch saw what was going on and called to the Sgt. by name to distract him from me. The WO jumped him in the hootch and knocked him out. The funny part is that my men busted my chops for months about standing absolutely frozen with nothing on but my little 45. Wish someone had taken a picture!
2. After the CB's built a basketball court in our company area, we used it for all sorts of things. One day, my platoon and I were playing baseball. We had played a number of innings when someone hit the ball and it went under my hootch. Right under my room. One of my men crawled under the hootch to get the ball and didn't come out for quite awhile. I finally said, you must have found the ball by now, let's get on with the game. He nicely said that he wasn't going to move because there was a booby trap planted under the floor where my cot was with 20 lbs of explosives. The MP's were called and OD. It turned out that my hootch maid was V.C. I guess she didn't want to clean my room anymore.
3. Now for you Engineers. We were on a convoy and the road had been swept by Engineers hours before. One of my trucks hit a mine and was totally blocking the road and so the convoy came to a dead standstill, which of course we hated. The Engineers came back in to re-sweep the road and guess what guys, They found an unexploded mine under the rear right wheel of my jeep. You aged me 50 years.
4. I had never been through an I.G. Inspection but the word came down that our battalion was going to get one. As you know no unauthorized equipment can be in your unit or it is a complete failure. We had unauthorized gun trucks, hundreds of weapons and equipment. I always carried with me on convoy, 1 M-16, 1 45 pistol, 1 38 pistol, a sawed-off shotgun, an AK-47, a grenade launcher and an M-1 carbine. I always thought I was Audey Murphy. Our CO, Capt. David Oates was on old line soldier and new exactly what to do. He had the Engineers dig a hole in back of our company area, 80 ft. by 50 ft, by 12 ft. deep and you guessed it. We buried everything until the inspection was over including the gun truck. He was a piece of work. We passed with an excellant grade. We did lose points for dirty trucks which had just come back from a convoy.
5. Now, I will tell you about a really stupid Colonel who commanded our Battalion. Bill Shugarts will back me up on this. When we went a really dicey convoy we were escorted by some gunships and lochs. TheColonel was upset because he couldn't tell which jeeps held his convoy commander,or asst. convoy commander, etc. So he decided that he would put bright pink 6 ft. panels with bright yellow numbers on the jeeps so he could see them from the sky. He put #1 on the Convoy Commander, #2 on the Asst. Convoy Commander, etc. Of course, the Viet Cong being so stupid would never fighure it out. I argued with that man to no avail. What a jerk!!!! Two miles into the covoy a strange magical strong gust of wind blew all the panels off the jeeps. I'm sorry to say we could not stop to retrieve them.
More Jeff Fishman adventures following OCS
Stephen Furste
Steve Furste is a retiree of Dow AgroSciences where he served as corporate Community Affairs Manager in the Government & Public Affairs Department for 10 years. Furste began his career with Elanco Products, a division of Eli Lilly and Company in 1980 where he held sales and marketing positions. . In 1984, he accepted a position as a clinical research associate in the clinical trials area of Eli Lilly and Company, where he remained until 1990. In 1990 he joined the Lilly-Dow joint venture, DowElanco, and held various management positions until his retirement in August of 2004. Furste has been the Executive Director of the Boone County Habitat for Humanity affiliate since 2005.
A native of Fort Wayne Indiana, Furste received a B.S. degree in agronomy from Purdue University in 1967, and received his MBA from the University of Utah in 1972. He served in the U.S. Army from 1968 until 1972, during the Viet Nam conflict and was discharged with the rank of Captain.
Comment: I am presently executive director of Habitat for Humanity of Boone County (since my retirement from Dow Chemical) and our Habitat affiliate became the first in Indiana to build a home for a wounded warrior in 2012(a young Marine sergeant who was hit by a roadside IUD while in Iraq. I have a wonderful DVD of the military celebration of his new home and will send it to anyone interested in seeing it - have your kleenex ready when you watch it .....steve
A lttile more on my experiences after OCS: I spent another 8 weeks I at an Engineer class and roomed with our old TAC officer - Peter ? forgot his last name. From there I got orders for Germany (I was VI- vol indef ) and I landed in Germany on the French boarder at a place called Zweibrucken. Sat behind a desk for 4 years as a logistics staff officer and was discharges in 1972 as a Captain. I married a girl from my home town and my daughter, Jennifer, was born in Germany. I went to night school and got my MBA as there was a program for junior officers from the 4 branches and I did it over 4 years going to classes twice a week at night - isn't the GI bill great! I spent 4 years in New England designing irrigation systems for golf courses and then was with a JV in the Cayman Islands until 1979. I spent the last 25 years with Eli Lilly and Company and Dow AgroSciences here in Indianapolis. I am a Dow Chemical retiree as I retired in 2004 and was promptly hired by Habitat foe Humanity in our local county. I love it and it is a great way to give back...Steve
Peter Gagarin
I spent the two remaining years of my Army commitment in the USA. I'm not good at maintaining friendships, and I kept up with not a single fellow OCS member once we left Belvoir. I assumed all along that I was one of the very few in our class, and perhaps the only one, who did not go to Vietnam. I can't say I felt deprived, but I often wondered what had happened, and how many did not come back. This effort by Buck and others to reconnect has been just wonderful, opening a door to a period in the very distant past. Thank you, and I really mean that.
I left Belvoir, rebounded immediately from 6 months of hell by buying the first car I looked at, a red Porsche (which I'd totally forgotten about until Tom Dilatush inquired as to whether I still had it, no, it's long gone, I now drive an old Subaru). All my worldly possessions fit nicely inside it, and I headed out to Fort Benjamin Harrison in Indianapolis, home of the Finance Corps, affectionately known as Uncle Ben's Rest Home, and site of the Finance Officer Basic Corps. Two months of classes, mostly about how the Army pay and benefit system worked. The assumption was a few months stateside, then Vietnam. (Continued via link below)
Gary Gustafson
Good for you guys, putting all this together. After this long you have to look close to recognize yourself. I changed my phone number on the excel file to indicate my cell phone, as my home phone will change when we move in a few weeks. I added my wife's name also. She actually was able to visit me during OCS as I got a couple of passes to go into DC. Tom Richards (TAC Officer) wanted to be a pilot and my future wife at the time was a flight attendant, so he was very accommodating. My home address is the new one and is O.K. as we already have the house. My email address will remain the same. I have lost track of everybody. I do remember the class at Ft Eustis. I was stationed at Ft. Bragg and Ed Maier, who was in 2nd Platoon, was my neighbor on post. We enjoyed goofing around with Ed and his wife for that year and then we lost touch. I ended up in Korea and missed Nam. Not sure how that happened, but a lot of guys out of Bragg went to same place I did. I'm still working at my own consulting company (Preferred Marketing Programs). Good to hear from you guys. I'll be happy to stay in touch.

Gary
Roger Harris
After reading the Bio's of some of my classmates from the OCR, I realized that each of us reach a point in our lives that many would call a "Defining Moment". God doesn't reach down and touch us on our shoulders and say this is crucial point in your life and how you react and overcome the obstacles that are before you will have a tremendous impact on how you live the rest of your life. Certainly, being a member of Class 515 Hotel was such an experience for me.
I came from a different background than most or probably all of you. I haven't lived at home since I was 13 years old. I attended the Mount Berry School for Boys in Rome ,GA for most of my teenage life. Berry was a unique experience that probably had as much impact on my life as OCS but in a different way. All of us were poor, not just broke, but in dire straights, hence the reason for us being at Berry. At a recent reunion, one of my classmates said we were sort of like a "Band of Brothers". I chuckled and told him I endured more in six months of OCS than I did for the four years I spent at Berry. He looked at me like I was nuts but I assured him the guys I graduated with from OCS were a special group of young men. Most of us weren't the smartest (Peter being the exception), or the strongest, or the best athletes but we all had a common bond that stood us through the tough times at the OCR. One, we wouldn't quit, and two, those of us who graduated on that August day in 1968 were team players. We looked out for each other! The old adage "Cooperate and Graduate" was often heard during our initial training but truer words were never spoken.
Tom Harvey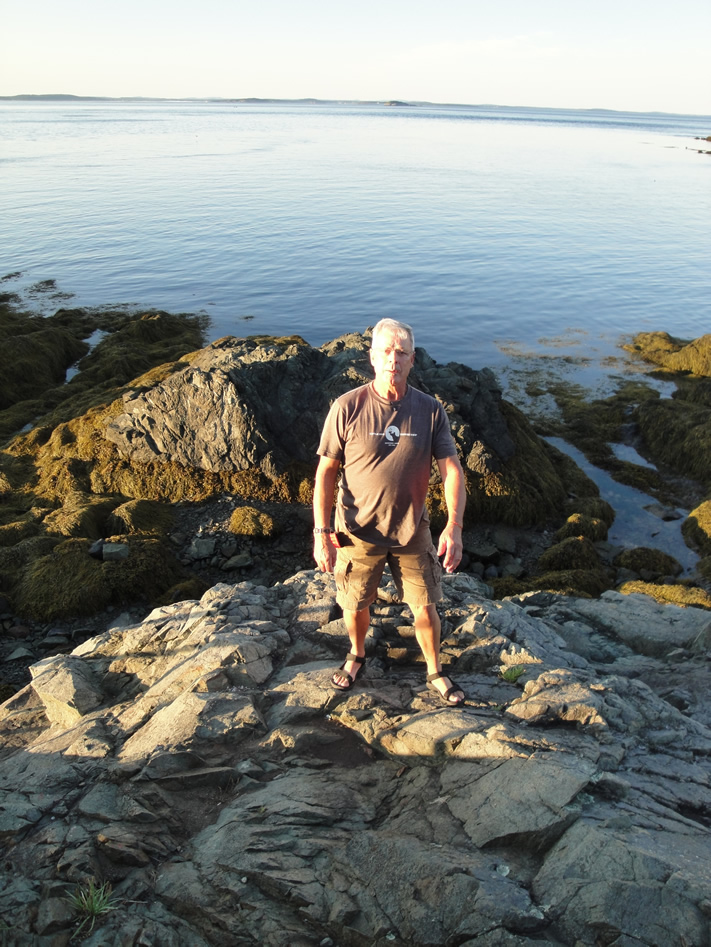 A little bio:

10 years in Atlanta the 70's (even roomed with Kirby Atkinson before he married and moved to New Orleans)
Worked as an accountant, which was not for me---Then field sales representative to the chemical industry--Left that job and traveled (busses, trains, boats, and hitch-hiking) through Central and South America, ending up in Bolivia. Then graduate school (MA Public Administration), while in graduate school I worked as a waiter and became engrossed with the restaurant industry.
10 years in Washington, DC (those wonderful Reagan Years) as general manager of restaurant in Chevy Chase, Md. The restaurant industry is insane for someone who is a day person (late nights, alcohol & drugs).
Left and traveled around the world for 11 months, ending up in Paris where I parked my dead ass for several months. Eventually I had to return to the U. S and get on with my life.
Back to Atlanta where I discovered horticulture volunteering at the Atlanta Botanical Garden. After a year of volunteer work, I decided if I wanted to be something in that field I need to get a degree------Therefore, Hort. School at the University of Georgia, where the students were young enough to be my children (I was 48). Great time living in Athens, Ga. for three years. Then back to Atlanta (1995) and a job as the Grounds Superintendent at the Atlanta Botanical Garden. That was (is) my career and my passion.
Never been married, well not in the traditional sense, but have had a long-term relationship, but am now single in my old age. Read between the lines----I am Gay and want to be married again. This time legally in the United States.
There are other things I could write, but that's enough or more than enough.
Mike Kihn
I can also understand the dislike of dealing with mines since, with my EOD MOS, I spent a year running a mine sweeping platoon in Vietnam (think "Hurt Locker" without the big suits), and, on the whole, I think that I preferred OCS.
Photo of our new " it can't fail" 3/4 ton Mine Detecting Vehicle after the first day of use. The problem seemed to be that it would "detect" only one mine before becoming unusable. So we went back to the hand-held metal detector and keen eyesight method.
I also did the Ft. Dix, Ft. Knox route before OCS - maybe that's how we all wound up in the same class. Went to Ft. Benning for jump school after Ft. Belvoir, then a stint at Ft. Bragg with the 82nd Airborne Div., and, then, an extended tour in RVN. Ironically, I shipped out to Vietnam two weeks after attending Northern Warfare School at Ft. Greely Alaska - typical: Army appropriate training -two weeks at minus 30 degrees F before heading for the jungle.
For a brief moment - as I became a "short-timer" - I thought about extending my enlistment in the Army, based on offers of promotion and advanced military-based educational opportunities, but finally decided to return to Philadelphia and my alma mater, the University of Pennsylvania, to pursue a Master of Architecture degree. In hindsight, that decision turned out to be especially fortuitous since I not only received a fantastic graduate education enhanced by the opportunity to study with one of the greatest American architects, Louis Kahn, but, more importantly, I met the person who would become my wife, Cecily Corcoran. Perhaps some of you will understand that having just returned from the jungle and my "Thunder Runners" minesweeping platoon duties, my social graces were somewhat rudimentary if not atrophied, and it was Cecily who took me under her wing, helped me become a "normal" person again and returned me to civilian life. This September we will celebrate our 40th wedding anniversary, and I can't believe that anyone is more blessed than I am to have had such an extraordinary partner in life. Trained as a landscape architect, Ceci is currently Executive Director of the Agua Fund, a Washington, DC based philanthropic foundation, which focuses on advancing the environmental and social well-being of particular regions of the country and is a member of many environmentally oriented organizations including the National Consultative Group on Biodiversity and the Chesapeake Bay Funders Society. We have two wonderful sons, Ned, who is finishing a MFA degree at UC San Diego and Tom who is living and working in Philadelphia.
Dean Liken
After graduation from OCS went to flight school. Then a year in Vietnam with the 220th Recon Company (Catkillers)flying the 0-1 Bird Dog in I Corps out of Phu Bai (Dec 69 -Dec 70). After five years in the service went to work with Ryder Systems and spent most of my 33 years in Raleigh, NC. Have been retired for the past 10 years living in Clarksville, VA. Play golf, fish, ride a Harley and work on this "old House" built in 1829. Also, spend time with my two twin grandchildren... Good to hear from my OCS friends after all these years...Dean
Henry Maas
All of your stories are impressive. Class 515H along with the TAC Officers were a great bunch of teammates who all worked together to make us tough enough to survive the perils of Military life. My hat goes off to all of you. The total experience of going to Basic Training, Advanced Infantry and then to be selected with the elite few to attend OCS made all of us realize what we were all made of, what we could endure, and to teach us how to respond for the safety of our Military Personnel whom we would be put in-charge. During the process of weeding out and final review in front a Military Officer Selection Committee at Alameda Navel Air Station I was with a group of fifty plus volunteer civilians who recently joined the Army and after final testing and oral interviews were over I and three others were told to leave the room and would be told if we were accepted or to be sent home for various reasons. After waiting for what seemed eternity, a Sergeant entered the room and said that we were the only ones that were accepted through the selection process and were to fill out a branch and dream sheet. Transportation Corp was my wish and my dream sheet was the West Coast or Germany for my long tour and then the short tour was a place that was little known to me called Thailand. I said to my self "Fat Chance". I was sent home and was to report middle of October, 1967. I reported as ordered and during the Physical process it was discovered by Army Doctor's that I had an ear infection and a broken bone in my left foot. They stamped me 4F. My heart sank and thought all of the testing and interviews was for not. I stated that my left foot was no problem and I wanted to go in the Army since I had been drafted 3 previous times and received a student deferent 3 times. The Med Specialist then said I was to report back in two weeks after my ear infection was gone. I went to a doctor who stated I had MONO. I ended up with an ear infection that would not go away and had to get my tonsils removed. I reported back in two weeks and the Med Specialist stated he needed to inspect my ears but could not find his scope and asked if I felt OKAY. I said yes and he stamped me 1-A. I was sent to Fort Lewis for Basic and later to Fort Ord completing Advanced Infantry Training. Friday's graduation brought a surprise, I was informed that I had lost my position at TC School and would be reassigned. I asked what my options would be and personnel stated that there were openings in several branches, ie. Infantry, Armor, and the list went on to Engineer. I said I would accept going to Engineer OCS, and the following Monday I arrived to Fort Belvoir. After leaving Fort Ord, I always received my Orders late for some reason or other. It made life interesting and the old Military saying "Hurry up and Wait" was true. During the last couple weeks of OCS, most fellow class-members had reveived their assignments for weeks, except a hand full of us who were held back in suspense. I remember the very last week of class the remaining hand full of candidates were informed by a Personnel Officer that since previous classes had turned down 17 European assignments the hand full of us left were all going to Europe as our next Duty Station. After the August Graduation in 1968, I attended TC School Orientation at FT. Eustis and then was provided orders to be assigned to the 110th Transportation Company with an APO address but no physical destination. What a mystery.
John O. (Jack) Mudd
After OCS I was stationed at Ft. Meade, MD, then went to language school. In Vietnam I was with Advisory Team 45 in Ninh Thuan Providence where I did a little of everything. As soon as I got home I started law school in my home state of Montana and reenlisted as the executive officer with a local Army Reserve engineer company to help pay the bills.
For nearly 30 years, I practice law in Montana and spent time as the dean of the law school. Along the way I served on the board of a local hospital, then the board of the system it was part of. In 2000 I was asked to join the system as an employee, working primarily on organizational issues and leadership development - not law. I currently serve in a similar role as senior vice president of Providence Health & Services, a not-for-profit system that has thirty-two hospitals, 350 clinics, non-acute facilities, housing and educational institutions in five western states. We moved from the quiet of Missoula, MT to Seattle in 2007. While I occasionally envy friends who have more control over their schedules in retirement, I continue to enjoy the challenges of the work, the colleagues I work with, and the organization that has been serving people here for over 150 years.
On the personal side, Maggie and I were married only a few months before I left for Viet Nam. We still shake our heads about that. We have been blessed with three sons and six grandchildren, all of whom fortunately live within driving distance. That means we travel quite a bit to spend time with them. The photo was taken at our 2012 family reunion with our crew and a friend.
Doug Noble
I may have been the luckiest of all because I was turned back from our graduating class, sent from my first assignment at Ft. Bragg to Defense Information School in Indianapolis landing in the Public Information Detachment for the U.S. Army Engineer Command at Long Bien. I entered a talent contest in Saigon at the urging of my commanding officer (a captain) and spent 30 days as commanding officer, MC and standup comedian touring the country with a group of soldier/sailor entertainers visiting units throughout South Vietnam.
For the rest of my tour I worked out of an air-conditioned office, traveled from the DMZ to the Delta visiting our engineering units and supplying stories for the KYSU (Engineer in Vietnamese) Magazine we published along with our weekly newspaper and worked with Armed Forces Radio/Television in Saigon (sorry about that Ho Chi Min) on the production of films. I wrote, edited and narrated films on "Land-Clearing Units" and the "Lines of Communications" asphaltic highway project which were broadcast on Armed Forces Television. I entertained my fellow officers at night by getting the base vector control folks to give me the rats and shrews (unlike our American shrew these suckers were huge) they trapped around the PX's to feed to my two pet Burmese Pythons. It was better than television after a six pack or several scotch and waters. I became commander of the unit as a First Lt. in March of 1970.
On the sobering side, my commanding General John A. B. Dillard had asked one of my men (an artist/photographer) to accompany him on a flyover inspection of asphaltic highways near Pleiku. He was bumped from the flight (one lucky dude) on a Huey Slick because too many Colonels and Lt. Colonels wanted to rub elbows with the Major General. They didn't have a Cobra escort (which was supposed to be the case whenever a general officer flew) and needless to say they flew below the three thousand foot level staring in awe at a 24 foot wide asphalt road. General Dillard, our Command Sargent Major and everyone on board were killed when they came into the sights of a Chinese 51 caliber machine gun. Dillard was an outstanding General and a good and decent man.
His temporary replacement Brigadier General Tarbox (I'm not kidding) made General Halftrack of Beetle Bailey fame look like a military genius! He was a fellow classmate at West Point with Dillard yet he made me write all the letters of condolence to the grieving wife and daughter with the boxes of personal items we shipped back to the states. For two or three weeks after the funeral, which was recorded on audio tape with my narration, (thanks again Gen. Tarbox) more pairs of socks and underwear would show up and I had to write another ghost letter which he would review, making two or three tiny changes then mail back to the family.
I was one lucky SOB and because I was single at the time and felt I was indestructible even with a near miss in one of the monthly rocket attacks on Long Bien or missing a firefight by five minutes. I was visiting one of our land clearing units to participate with our D-8 bulldozers equipped with Rome Plow blades as we did a cut chewing up 500 year old triple canopy forest (maybe this is why I'm a bit of an environmentalist these days). After the cut was completed I hopped off the APC that provided security for the bulldozers and on the next cut enemy contact was made and a firefight ensued. You just never knew.
For me, there is a catharsis in recalling these experiences. In one way or another they shaped my life for good or ill.
Bill Oster
In my earlier email my "uneventful " career was meant to only to describe my two year stint at Ft Meade. It was embarrassing, but my biggest challenge was sometimes driving in Baltimore Wash parkway in rush hour traffic to make reveille after a late night. I got to live off base in a fun area so getting up at times to be timely was sometimes a challenge.
After the Army things sped up quite a bit. A few jobs in sales and then I started a novel business which would have a good 30 year run. I was lucky and sold it in 2004 before economy tanked . It was hard but an exciting ride -plenty eventful. I think the Army/OCS training some how sunk in and was a big help to stay the course when going got tough.
I started the business when I was 32. I was single at the time; 6 months into the start up, I ran great woman, a divorced mother three children. We got married and 2.5 years later I went from being a single guy with 2 roommates to having a wife, 5 kids, a mortgage, and a pet rabbit.
Post Army life definitely very eventful. Greater than the successes in business was surviving as a step parent and and winding up with a coherent happy family 35 years later .
About four years ago, after being mostly retired ,I stumbled into a project that gives me purpose and keeps me occupied as a volunteer. It also reconnects me to the Army. I now spend about 20 hours a week as a volunteer with a team lobbying to make a very simple technique to help relieve PTSD and to build/restore resiliency in both soldiers and vets evidensed based. TRE TM is technique which is affordable and very powerful tool for help recovery from chronic or traumatic stress or just to make people feel good.
With others, we have successfully lobbied the Army and Department of Defense to call for clinical trial proposals and then made proposals for a controlled study; we believe that clinical trials are imminent and finally seeing the training working its way into the into VA facilities even before the validation studies. This has a labor of love it is fun and rewarding.
This weekend, we just celebrated our 50th high school reunion. Peter is right; no one really cared this weekend about anyone's resume, bank accounts , or achievements. We were just happy to see each other and to hear people's stories and "takes" on life.
Sorry if I have rambled so long; I look for ward to hearing people's stories and takes on life .
Bill
Bill Poole
Fellow Beanheads:
Receiving all your emails since Bob Barnes contacted me has been just amazing. It's touching to hear what classmates like Bill Oster and Bll Shugarts are doing to give back to the men and women who voluntarily defend and serve our country. Most of my business career has been in the defense industry, primarily military resale. Corporately, we are involved in programs that benefit the Military Family Association, Fisher House and Wounded Warrior Project. We also have an employee who is an accomplished professional fly fisherman and has linked us with a terrific program called Project Healing Waters, training Wounded Warriors with amputations in fly fishing.
Hearing Jeff's story of how he got to the 101st Airborne reminded me of how I arrived at my assignment in Vietnam. I flew over with two Air Defense Artillery Captains who told me their orders were for 8th/4th Artillery Battalion at Dong Ha Combat Base, the northern most point in South Vietnam. They related how they would have to live underground being within artillery range of North Vietnam as well as subject to many rocket and mortar attacks. My orders only read Cam Ranh Bay. When we arrived, they spent the night and went back to the airport to fly to Da Nang. Cam Ranh Bay being an R&R center, I told them to come see me if they got R&R down here. Later that day I got my orders - Da Nang Support Command. I went to the airport and flew up to Da Nang, with these two Captains. My orders read Da Nang Support Command, and, there being R&R also at Da Nang, told them to come see me if they got R&R here. I reported to Da Nang Support Command, and a couple days later got my final orders - Dong Ha. Took me a few days to get up to Dong Ha but became Lt. R&R as soon as they saw me. They did initiate me into their unit - which involved drinking an 8MM howitzer shell filled with the alcoholic beverage of my choice. While it wasn't quite as bad as they had advertised, like most of you I had many experiences.
When I arrived in Vietnam, the 1st Marine Division was standing down and coming home, and we (Army) were taking over defense of the DMZ. We took over the Artillery and Armored Cavalry missions, and the ARVN's took over the Infantry mission. Could write a book on "Vietnamization." We were very familiar with the land mines and unexploded ordnance. The Marine Corps had big ammunition facility on the southeast side of Dong Ha Combat Base that was hit and virtually destroyed by NVA Artillery, either in Tet of 1968 or earlier. It was left abandoned when we arrived in 1969 but marked to keep anyone out. At some point during my year on the DMZ, we had a visit from the Deputy CG for Support for Vietnam who flew over the area on his way in and saw some things he wanted identified. A couple of our troops knew a way in and out and my fellow Lieutenant and I were able to go in and retrieve what turned out to be bags of grass mulch (hard to believe) to satisfy the General's curiosity. There were are huge number of unexploded artillery shells in there. Can only imagine what it is like today. I also remember the Catholic Church - I believe in Quang Tri or Hue - shot up in Tet of 1968 also.
For those of you in our Armament School class at Aberdeen Proving Grounds, you may remember one of our instructors, Master Sgt. Johnson. Sgt. Johnson served in our unit in Dong Ha and was a rock with the troops - I am sure much like the Platoon Sgt Jeff served with.
We all share an experience that impacted and shaped our lives that we could not have received anywhere else! Can't thank enough Bob, Buck and all the others that have put this effort together to re-unite our class.
Bill
Will Parker
Hi All,
Laurel and I have been happily marred for 30 years now since we met in Denver.
I will give you the short version of the journey to New Mexico.
Upon graduation from OCS, I had extended to Volunteer Indefinite status and was posted to Germany assigned to one of the Maintenance Battalions that services the huge stores of equipment pre-positioned in case of WWIII. Not much fun.
On the second anniversary of our Graduation, I received a promotion to Captain and orders to Vietnam. I served initially in Long Bin as the Ship Officer for the Collection, Classification and Salvage (CC&S) point for the southern half of Vietnam. Essentially I ran the junk yard. Not a bad gig, as we could trade salvaged parts with the Aussies and Kiwis to help them keep running the US Jeeps they had stolen form us. They traded steaks they had stolen for the General Officers Mess.
Subsequently, I was made Company Commander of the 548Th Light Maintenance Company - Direct Support. Immediately we were reinforced to full strength and sent to the village of Dong Ha near the DMZ. Our initial mission was to support 1st Brigade of the 5Th Mechanized Infantry Division and the Vietnamese when they went into Laos to interdict the Ho Chi Min trail. To do this I took a large detachment to our forward base at Khe Shan. Yup, the same place a Marine division was pinned down during Tet '68. A interesting place - all the hilltops look like golf balls from the 1000 pound bomb craters from the B-52 strikes.
After the North Vietnamese kicked the South Vietnamese out of Laos their withdrawal turned into a dress rehearsal for the 1975 collapse when they tried to withdraw from the central highlands. Result was that we had to bug out fast. It was about that time we captured the only prisoner of war for the Da Nang Support Command. We had a NVA Lieutenant give up inside our perimeter. Freaked my troops out as he just stepped out of the elephant grass along the path and flagged down their jeep. They decided he was NVA because of the AK 47 and no boots.
After Khe Shan, we returned to Dong Ha but had no mission. It was frustrating to watch a good unit degrade into a bunch of juicers and druggies. Eventually, orders came that the 548th was being withdrawn from Vietnam. Orders also came that my company was being "Flag Changed" to the 528th So the troops in the 528th went home and we stayed in country. Still no mission. At this time , I decided to request relief for active duty a leave the army. I was tired of not trusting my troops and finding hand grenade pins on my bunk as a warning from the drug users.
Finally, orders came to "flag change" the 528th to the 185th . All troops with less than 60 days left on their tour would go home. We went from Dong Ha to Quang Tri and finally to Da Nang and home. I still have the flag!! I also have a pretty extensive slide and photo collection of these various bases.
After the Army, I returned home to Pittsburgh. There I went to work for H.J. Heinz in logistics. Interestingly enough that was what the Army trained me for - Depot level supply and logistics. I also was able to earn my MBA from Duquesne University. Over the course of my 30+ year career in the food industry I have lived in Pittsburgh, Denver, Detroit, Denver (again), Southern California, and Chicago.
In 2004, I exited the Corporate world. Having decided the own and operate my own business, I eventually settled on JAN-PRO Cleaning Systems as a relatively risk free franchise opportunity. We moved to Rio Rancho in 2006 to start up the business. Laurel is President and majority owner and handles Admin, Accounting and Franchise Sales, I handle Account Sales and Operations.
In the 7 years of operation we have grown sufficiently to hire a General Manager and are now in Semi-Retirement. Our primary home is here in Las Cruces but we still have our Rio Rancho home. We commute to spend 3 days a weeks in Rio Rancho as I still President of The Rio Rancho Rotary - Sunrise Club.
Hope this didn't bore too much.
Will Parker

Vice President
JAN-PRO of New Mexico, Inc.
2320 Grande Blvd. Suite E
Rio Rancho, NM 87124
Bob Rauscher
Robert G. Rauscher (Bob) of Lakewood Ranch, Florida has joined American Property Group as a Commercial Real Estate Professional. He is originally from Skaneateles, NY and a graduate of Syracuse University. He served 4 years in the US Army achieving the rank of Captain while on duty on Vietnam where he received the Bronze Star and Vietnam Commendation Medal.
Bob has excellent credentials to be successful in commercial real estate. He has a 25 year background working for a Fortune 500 Company in Vehicle Leasing and Transportation Logistics. He held various positions including Director of Marketing and Sales Development, Regional Sales Manager, and was a member of their exclusive Roundtable Sales Achievement Club.
Bob Rauscher - Sarasota, Florida realtor
I lived in a BOQ at the other end of China Beach in 1970-71 and we were next to the Marble mountain Helicopter base and got so much incoming rocket attacks that were fired at the base that went long into our area that I switched to night duty. Also I had a 2 year tour after OCS and some FT. Eustis transportation training before going to Nuremberg Germany with the 4th Armored Division and in my 2nd year I was the assistant S-3 to Col. George S Patton when the movie Patton came out. He was his son and later made General and I was able to talk to him about his dad for hours. He got invited to towns all over Europe because of the movie.
Dan Russell
After graduation ceremonies we all headed to separate officer basic schools. Mine was Ordinance Corps basic at Aberdeen Proving Grounds in MD. While many of our comrades in 515H were together through most of the Ft Dix, Ft Knox and Ft Belvoir route, only 6 of us were at Aberdeen. The others were Barnes, Hoch, Meeker, Moran and Oster. Officer Basic was pretty uneventful for me.
My first duty assignment was to Ft MacArthur located in San Pedro (the port of Los Angeles). After a couple of months running the motor pool the post commander announced that with my MBA I was the new Club Officer. That was an amazing experience. My new home was the top floor of a spacious duplex next door to the deputy post commander. My position meant I went on every trip on post army boat with the post commander: Mission to clear the artillery range off the coast - translation = overnight fishing trip out and around Catalina Island.
More of the Dan Russell story
Lloyd Seales
After OCS, I was assigned to the Armor Engineer Board at Ft. Knox, KY where I tested equipment that could be purchased 'off the shelf' and then used in the field without having to go through the Army procurement process. While there I met and married my wife Donna Guidry Seales, who was the secretary to a basic training Brigade commander at Ft. Knox.
A month after we were married, in August of 1969, I went to RVN where I was assigned to the 2nd CA Co and was attached to advisory team 90, based in Tay Ninh province on the Cambodian border northeast of Saigon. In addition to trying to win the "hearts and minds" of the local population through pacification projects, my main project was to build a 2 story concrete TB ward at the local hospital using local labor. I was given $50,000 cash, plus all the cement and rebar I needed. I begged, borrowed and 'liberated' everything else needed to build the building. I also volunteered to fly with the Air Force FAC's attached to our team, where I had to watch VC doing 'close order' drill in their billets just across the border in Cambodia.
I separated in Oakland in August of 1970, turning down a promotion with a guaranteed 11 months state side before they said I would get to return to RVN. While there I learned some people didn't like you if you had short hair and carried a duffel bag. I returned to work for the City of Los Angeles for a year before moving to Louisville, Kentucky where I worked for a design engineering firm a couple of years before going to work for a contractor in the area. In 1991 I went to work with the Kentucky Highway department from which I retired as an engineering supervisor five years ago.
My wife of 43+years and I have three sons and two daughter-in-laws, who still live in the area, with two grandsons, 4 and 8, and a granddaughter 6, which our job is now is to spoil as much as possible.
James Silhasek
James Silhasek-Profile
Bill Shugarts and Family
Bill Shugarts is a world class photographer who specializes in both military and missions photography. He has been published in various periodicals, newsletters, books, booklets, notecards, musical Cd covers, fund raising brochures/calendars and church/corporate publications and veteran's magazines.
Moreover, Bill currently leads a Military Outreach Ministry, is a docent for the National Park Service at the various Washington, DC memorials and a missionary with Christ United Methodist Church and an International PhotoMission Photographer. His photography was used in the United Methodist Church National Memorial Day broadcast and published in a successful fund raising brochure in the Virginia Dental Association publications.
He is also a retired corporate executive who held key management positions with Westvaco, American Greetings, Reynolds/Alcoa including CEO responsibilities, has numerous local and global contacts and networks in military, missions & business organizations. Bill has traveled extensively throughout the world in his 50 years of photography and is a decorated military officer from service in Vietnam with the Americal-23rd Infantry Division.

More Bill Shugarts photos
Bob Sprague
Coming Full Circle 1st Lt. Robert T. Sprague
My fondest memory of OCS is the Mess Hall and all of the yelling, questions, requesting to eat and trying to get the first thumbnail sized piece of pie in my mouth before a booming voice from the center of the room would say, "CANDIDATES RISE", leaving that morsel hanging in mid air. That is why I would volunteer to clean the pot and pans. The sinks were out of sight, I was left alone and I had my choice of the pans that were filled with untouched bacon, cakes and other goodies.
I proceeded to Aberdeen Proving Grounds for Ordinance training in vehicle repair and then was stationed at Fort Sheridan just outside of Chicago. One day I received an angry phone call to report to Col. Meeker ASAP. Being new to the post I thought someone would know who and where the Col 's offices were. "Who" was the response. Panic . Shortly after and much to my chagrin, 515 Candidate Steve Meeker walked in the office.
It was not too long afterward that I received my invitation to Vietnam. I was stationed just outside of Long Bin at a place called Bearcat as a Shop Officer of the 590th Maintenance Company and oversaw the repair of electronics, self propelled guns, jeeps, APCs, and trucks. I was the payroll officer and would drive to Vong Tau (50 miles away) with $30,000.00 in a paper bag (lots of cash in 1969), a side arm and a couple of guys with rifles. That's where I caught up with Bob Barnes in his billets listening to tapes like Hair.
While over there I had a brief visit with Tom Dilatush and spent a couple of days with Dan Russell. It was great to see a few familiar faces and hear their stories.
While other brave men were risking their lives in the jungles, I had my own room with a stateside cherry bed and dresser and my own fan. Food was hot, on time, and the PX was nearby. I was merely a tourist for a year and on the sidelines as an observer.
Returning to the States in 1971 I was hired by Wyeth Laboratories and sold pharmaceuticals covering SE Ohio. I moved to Zanesville (50 mile East of Columbus), married Lynne Ann (42 years and counting), had two sons Josh and Sean, lived the same house for most of that time and retired in 2009 with 38 years with the same company.
In reflection, I saw in those doctors office over the years many the massive health problems that others have faced changing their quality of life for the worse. I began thinking of how fortunate I have been in my life, good family, education, 1st Lt, wonderfully married with two boys, and strived to be the best in my profession. That is when it came to me that after looking inward and concentrating on my family, trying to succeed, raising children and my own self interest , I had not really taken serious notice of most people's struggles and that they had not remotely tasted my success.
Then I remembered the many unfulfilled hopes and dreams of the young names on the Vietnam Memorial.
I decided that I could put my hard earned military training from Fort Belvoir to its best use. I am now volunteering to help prepare, serve and deliver 9,500 meals a month to mostly homebound people and the walk-in under privileged. I have re-found my original calling at the sinks washing pots and pans. The only difference between OCS and Christ's Table is that all of the food is used to help the needy and now and then I get a stray cookie, a slice of cheese or a piece of melon.
Charlie Sprinkle
JANUARY 3, 1945 - JUNE 29, 2021
Charles Monroe Sprinkle, Jr. (Charlie), of North Myrtle Beach died Tuesday, June 29, 2021, following a brief battle with cancer. He was born January 3, 1945, in Winston-Salem, NC, the son of the late Charles M. and Edith W. Sprinkle.
After graduating from St. Andrews Presbyterian College, Mr. Sprinkle served in the United States Army as a First Lieutenant, including a tour of duty in Vietnam. Mr. Sprinkle and his family then settled in North Myrtle Beach where he served in executive leadership roles at several local banks and was active in the community. He especially enjoyed serving others through his membership in the Rotary Club of North Myrtle Beach. A longtime member of Ocean Drive Presbyterian Church, Mr. Sprinkle served as Deacon, Elder, and Treasurer of the church.
Mr. Sprinkle is survived by his wife of 55 years, Ann; his son, Charles M. Sprinkle III of Greenville, SC; his daughter, Jennifer S. Utnick (William), of Charleston, SC; his sister, Kitty S. McKeithen of Asheville, NC; and grandchildren Timothy, Lindsey, Lauren, Taylor, Gracie, Chase, Will, Emmy, Luke, Matthew, and Jack. A funeral service will be held at 11:00 a.m. on Friday, July 2, at Ocean Drive Presbyterian Church, North Myrtle Beach, SC, with the Reverends Daryle Bush and Kevin Giordano officiating.
In lieu of flowers, memorial contributions may be made to Ocean Drive Presbyterian Church, 410 6th Ave South, North Myrtle Beach, SC 29582; Charleston Baptist Church, 13 San Miguel Road, Charleston, SC 29407; or the Heartland Hospice Memorial Fund, c/o Heartland Hospice of Myrtle Beach, 2050 Corporate Centre Drive, Suite 220, Myrtle Beach, SC 29577.
Memories and condolences may be left at www.leefhandcrematory.com
Richard Stolz
After OCS, I went to ordanance training at Aberdeen Proving Grounds until Feb. 1969. I then was assigned to Ft. Dix to be maintenance officer at a maintenance facility for the Nike Hurcules missle sites in the NY/NJ area. I had orders to go to Viet Nam in September 1969 but just before I was going on leave before I was to report, Nixon started his pull back campaign and the division I was supposed to go to was the first to be brought home. So my orders were changed and I stayed at Ft. Dix until I got out in Sept. 1970. I spent the last year as the post motor pool maintenance officer at Ft. Dix - a nice job. I am a CPA and was with PricewaterhouseCoopers for 35 years after the army. I retired in 2004. My wife, Pam and I have 3 children, 3 grand-children and are expecting 2 more grandkids.
Mike Thesier
Yes. I am delighted that you found me. I did not think I had any friends in that place. I remember that Peter Gagarin got me through the Math.(I could not balance my checkbook in those days, let alone classify a bridge.) I think the Tac Officers thought I was rich or politically connected. I was neither but, I think that's why I graduated.I spent an entire day calling a tree to attention because I had no command voice. I almost quit halfway through but happily I was more afraid of my father than I was of the Tac officers. A real Army Sergeant who was a member of our class saved my butt when the Tac Officers made me the commander of the closing exorcises. He said, " choose me as your Chief of Staff - I'll get everything done. You ride around in a jeep and call in % complete. That's what officers do. You'll be OK." I went to Germany, then to Viet Nam. Got a Bronze Star & came home a Captain. I think I graduated last in our class. I am still proud. I went into the ministry in 1980. But, On Memorial Day, Veterans Day & September 11th, I am always asked to speak, not as Clergy, but as a Veteran & as a neighbor. I wear the Bronze Star Pin in my Lapel every day. If we have a reunion, I will do my best to be there. Thank you for finding me. Rev Mike
Hi again,
I went to Basic Training at Fort Dix, NJ. Then, like a lot of us, I went to AIT at Ft Knox, KY. While at Ft Knox a buddy and I got sick of being Private E- nothings. We dressed up in civilian clothes, sneaked off the base and went to where I had stored my car (that I was not supposed to have) and drove to Louisville for an expensive dinner and time off base. On the way back, a Kentucky redneck in an old pick-up with no license and no insurance, crossed the Dixie Highway in front of me. We crashed and my beautiful 1965 Buick Riviera was almost totaled. The local police got there before the Military Police. They ticketed the other driver and had my car towed away. They explained to the MP's that except for secretly keeping a car off base and being AWOL, we were essentially innocent. The MP's put us in their car and drove us ominously and wordlessly back to the base, shut their lights off at our barracks and stopped. One of them said: "Get out. If you don't say anything, neither will we." A while later, before the car was repaired, I got orders to report to OCS. After I had been in OCS for a few weeks, my parents went to Kentucky, got my car and drove to Fort Belvoir. My father, who had been an Ordnance Officer in WWII and who could be very charming when he wanted to be, stopped at the gate and asked the MP for an appointment with the Commanding Officer. Astonishingly, the Colonel agreed. The two of them got on well. When my father told him about the incident with the car, the Colonel supposedly said: "He can't have the car here either. But, I have an idea. Let's put the car on the parade ground and let him look at it for six months. That should be punishment enough." So they did. Later on, when I was ready to quit the program, My father flew down in his small airplane, saw the Colonel again and asked for some time with me. The Colonel said: "It's Easter Sunday, You can have one hour after church." By the time my father was through with me, I was no longer afraid of OCS. My father was a Real Estate Broker in a small upstate New York city. He was not rich. But, I have often thought that the fact that he had his own airplane and seemed to be friends with the Colonel, is why the Tac Officers managed to get me through to graduation. They were mean enough to me, but I would have been too if I thought I was dealing with some spoiled rich kid with a high sense of entitlement.
There was a Captain in our HQ who was an unhappy man. He had a job and could not seem to get it done. He got nothing but grief from below and no support from above. So he gave up. He did nothing. For reasons I do not remember, I was riding in a helicopter and heard over the radio that that Captain had been relieved for non-performance of his duty. I went through the list in my head and realized that I was the only one in the HQ with that MOS. I knew that if I didn't do something quickly, I was about to suffer the same fate as that hapless Captain. I told the pilot to get me back to the compound right away. He did. I ran up to the Colonel's office. He was a good man and had a West Point ring. I saluted and volunteered for the job under certain conditions. I wanted a helicopter and a pilot on call, a jeep of my own (I didn't need a driver, even today I won't drive over a CocaCola can in the road) and two really excellent sergeants to work for me full time. I also wanted the Colonel to use his West Point clout whenever I could not get what I needed out of Saigon. The Colonel agreed. He then said: "You are on a line so thin as to be practically invisible. If you do this job, you'll get a medal. If you don't, you'll go to jail. Dismissed." A few hours later at supper, the Colonel approached me and as I stood up he whispered in my ear: "You little SOB, you KNEW you were the only one here with that MOS. I keep my promises. Take care of those boys." I assumed responsibility for taking care of 23 Mobile Advisory Teams scattered throughout the province. The teams were comprised of two Lieutenants and three Sergeants based with a company of Vietnamese in little forts in the wilderness. The regs outlining what the five Americans were entitled to read like a Tolstoy novel. Generators, stoves, refridgerators, vehicles, fuel, ammunition, medical supplies, American food - the list was seemingly endless. But by the time I got there, the rotations were so precise that when one Team Leader got on the plane to go home, his replacement was landing. For years, none of the teams knew what that were supposed to have. They were underfed (eating rice & fishheads with the locals, underequipped and on their own. I had met one of those Team Leaders at HQ. That's how I knew what I would need if I ever got stuck with that job. It gets better.
Other Links
Contemporary description of OCS Training at Ft. Belvior 1966-1967
PTSD Self Test For Veterans