50th Class Reunion - San Antonio, Texas - October 26 to 28, 2018
San Antonio, the home of the Alamo, was selected for our reunion site for its appealing, mid-country location and historical significance. San Antonio offers much to see, do, and offers a range of dining and shopping options.
We stayed at the San Antonio Embassy Suites River Walk - Downtown Hotel. The hotel is located on the banks of the famous San Antonio Riverwalk and within walking distance of all downtown attractions, entertainment, shopping and dining. The River Walk area is deemed by many visitors to be an extremely appealing area.
Thanks to Bob Barnes we received a fantastic discount from the hotel. The entire planning committee did a great job in providing a meaningful experience for all: Tom Dilatush, Bill Shugarts, Mike Kihn, Bob Barns, Larry Creekmore, Dan Russell, Jack Mudd, Bob Cournoyer.
On Friday morning, early arrivals were treated to an architectual history walk sponsored by Mike Kihn. Friday evening we met for cocktails in the hotel lounge, and scattered in small groups to sample San Antonio's diverse eateries. Saturday was filled with walks along the river, boat rides, brewery visits, shopping and, of course, a visit to the Alamo. Saturday evening we met in a private room at the Longhorn Steakhouse, for and outstanding meal planned by the reunion committee. Sunday we met for breakfast at the hotel and said our farewells, promising to do this all over again in another awesome local.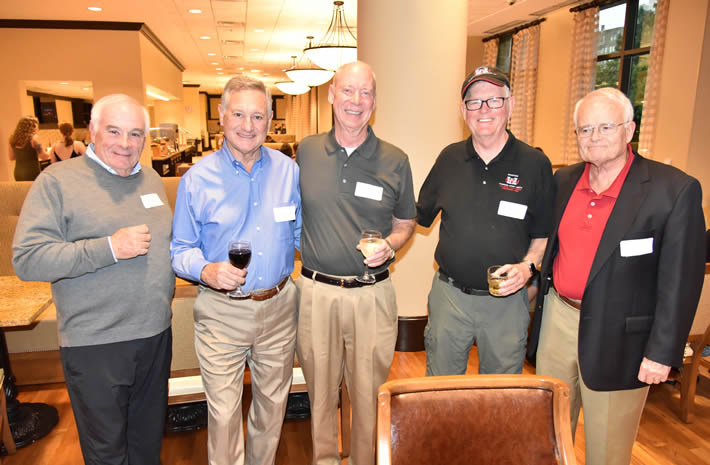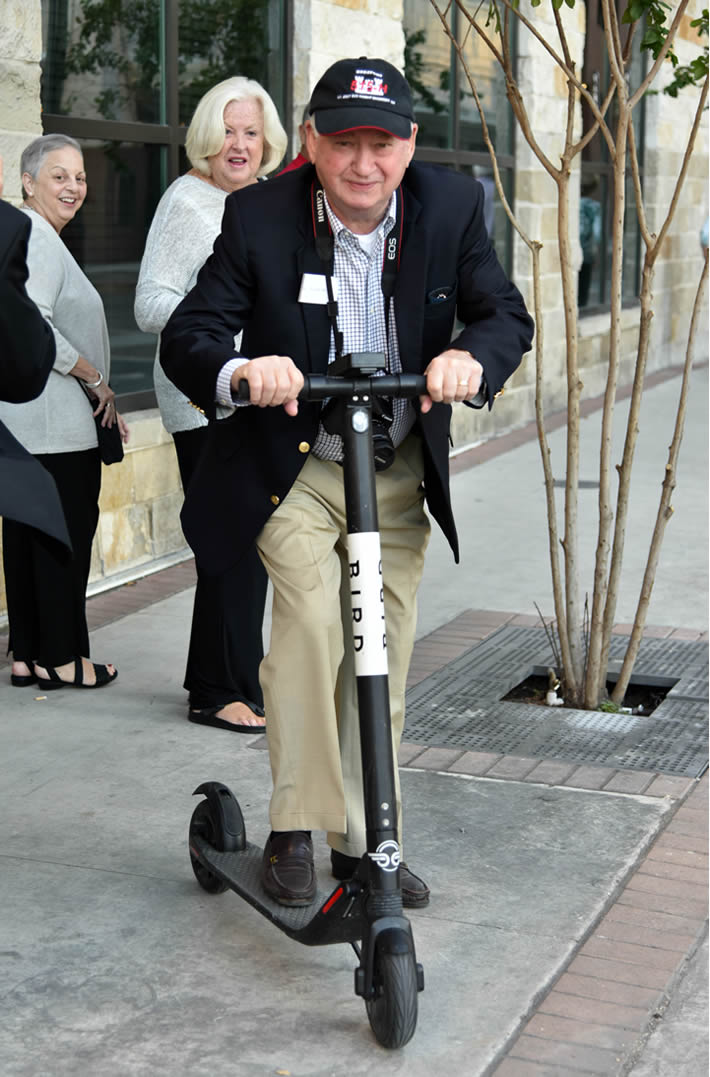 In Memory Ceremony - Washington D. C. Jun 16-17, 2017
On June 16 and 17 Roger Harris, Bill Shugarts and Mike Kihn, representing 515-Hotel Company, were joined by Mary Hamma, her family and friends to celebrate - during the 2017 In Memory Ceremony at the Vietnam War Memorial - the life and memory of Donald Hamma, who died on Father's Day 2016 of causes related to his service in Vietnam. The two days were devoted, in part, to remembering, as Bill has put it, Don and "his famous phrase to us all at various times ' "I could care less" ' which really meant he cared about us all so that we received the highest caliber training to be able to perform in extreme circumstances" and, in part, to helping Mary and her daughters Kristine and Lindsey cope with the passing of their husband and father.
On Friday we visited the Memorial Wall and placed a plaque and a dozen yellow roses there in honor of our brothers, including Don, who are no longer with us. On Saturday approximately 15 Hamma family members and friends, along with nearly 1000 other participants, attended the In Memory Ceremony to celebrate the lives of more than 400 Vietnam Veterans who died of war related causes during the past year.
The two days were both emotional and poignant. But in a certain sense, because they were also full of shared memories of Don, our other TAC officers, Officer Candidate School experiences and Hamma family history, they were also uplifting. As you can imagine there were both tears and laughter - often at the same time. Following the ceremony we convened for lunch and, then, said our goodbyes.
A note that Mary wrote following the ceremony and the weekend indicated how much it meant to her and her daughters, Kristine and Lindsey and how important to them were our recollections of Don's role - for the most part unknown to them - as an OCS TAC officer at Fort Belvoir.
I would be remiss if I did not state that this event would not have occurred without Roger's many conversations with Mary, which convinced her to attend the Ceremony and invite her family members. Also, at Roger's request, Carol Fox wrote an eloquent letter to Mary describing her own valued experience at an In Memory Ceremony and urging Mary to attend. Of course, Bill's work as a volunteer guide at the Memorial Wall, his connection with the Vietnam Veteran Memorial Fund and his leg work in arranging our daily agenda were key to the endeavor;s success.
Poster honoring our fallen brothers
Mary Hamma with daughters Lindsey and Kristen
Bill, Roger and Mike
Color Guard
Prayer - Mike
Lindsey & Kristen Hamma
Don Hamma Plaque
Roger adressing Hamma family
Mary Hamma, family & friends
A Gathering of Eagles - Washington, D. C. June 18-19, 2015
We gathered together to honor our fallen brothers.
Attendees at the OCS compound area on Ft. Belvior
Ted Aragon's son and grand-daughter
The Bodwells and Barnes's
Bob Barnes and Dan Russell
x
x
March 2015 - Viet Nam
Please find the attached March 2015 Vietnam Trip summary for a special delegation going back to Vietnam. We have been working on this special itinerary with Global Spectrum Travel (Fairfax, VA) for the last few months since our reunion here in Washington, DC. Global Spectrum Travel (http://www.globalspectrumtravel.com/) has been doing trips/delegations/mission trips like this over the last 20 years.
Moreover, GST specializes in this part of the world offering unique advantages and opportunities for travelers of all kinds--tourists, veterans, families of veterans, spouses, college and university professors, students, businessmen and businesswomen. A few of the many unique travel venues/opportunities on this trip include a special audience with the Joint Task Force Military Unit in Hanoi, Vietnam that continues to search for our missing soldiers from the Vietnam War and a special trip to Khe Sanh via one of GCSF's projects (school, library) as well as many other unique opportunities in Hanoi, Hue, Da Nang, Ho Chi Minh City (Saigon) and the Mekong Delta. Folks, this delegation opportunity, humbly speaking, is a once in a lifetime opportunity and can allow for closing the chapter on Vietnam for many of us.
Please review the materials in the Word docs below and let me know if you plan to travel with us. We have 4-5 months to work the logistics with a requirement to have payments into Global Spectrum travel by January 1st, 2015. They require payments 60 days in advance of travel plus airline reservations will be needed as well.
Also, we chose these early March dates to take advantage of temperate weather throughout Vietnam generally speaking as we will be going from the North to the South and crossing three different regions/weather systems of sorts. The neat thing is you will see the various regions of Vietnam and many areas we as veterans never got to see when in-country such as the Cu Chi Tunnels.
I have also attached an exchange of questions I have had with Global Spectrum Travel this week which might answer several other things while considering this unique opportunity. Hope that helps too. Please ask any questions and we can go from there.
One thing I forgot to mention, I have traveled with Global Spectrum Travel twice before with veterans delegations back to Vietnam and GST really does the best job integrating the war and the cultural things that most tourists see but enhancing it with special activities and tours which can enabling healing and closing the chapter. They do more than battlefields (they do these as well) making it a more universal experience. Our delegation will travel from the North to the South and places in between in a really beautiful country. "Vietnam a Country not a War" is one of the slogans used in Vietnam these days where Americans & veterans are sincerely welcomed!
Finally, I will also be utilizing similar communications and administrative techniques that we used via our reunion in leading this delegation. They seemed to work and should enable us to form a nice travel team and have a great trip.
Thanking you in advance for your careful consideration of a once in a lifetime opportunity!
Sincerely yours,
Bill Shugarts
August 2015 Normandy WW II Trip
This is a trip to visit the locations at Normandy guided by Carver and Marianne McGriff.
Attached is the itinerary as it currently stands. Some adjustments may be made but the basic sights that we will visit are listed. We would leave on Wednesday, August 25 and return September 2, 2015. The projected cost of the trip is $3600.00 per person in double occupancy. We will be able to add some days on the beginning or end of the trip for those who might want to spend more time in Europe and we can help with upgrades or frequent flier miles.
The trip includes round trip airfare from Indianapolis, bus transportation in France, Seven nights in 5 star hotels, all Museum admissions, daily breakfast, a gourmet lunch and closing dinner.
I wanted to give you the first chance to confirm a spot on the trip before we email this to a larger group. If you want to be on the list, please mail a refundable deposit check for $500 per person by Sept. 1st made out to TRAVEL TO REMEMBER and mailed to Robert Zehr, 621 Timber Mill Lane, Indianapolis, IN 46260. Print and complete the attached registration form and mail it with your check. After Sept. 1, we will begin to send information to a larger list and I feel certain the trip will fill very quickly. .
Steve Furste
515 H Flag - created for the 2014 Reunion
515 H hat and shirts- created for the 2014 Reunion
Buck Bodwell, Jeff Fishman and Mike Kihn
Steve Furste, Dan Russell, Jeff Fishman, Bill Shugarts, Tom Dilatush and Bob Barnes
Peter Gagarin, Jack Mudd, Margaret Mudd, Gale Gagarin
Larry Creekmore, Buck and Carol Bodwell
Jim Silhasek, Tom Richards, Peter Gustavson
Stu Eaton, Dan Russell, Tom Dilatush and Ron Garner
Charlie Sprinkle and Bill Oster
Jack Lowery and Kevin Moran
Craig Lampe's son Stewart, wife Janis and sister Allyson Hopkins
Carol Fox
Charlie Sprinkle, Nancy and Larry Creekmore
515 H Flag and Memorabilia table
Lt. Dan Russell's locker and uniform display
Wreath placed at the Tomb of the Unknown Soldier
Shugarts, Fishman, Creekmore and Bodwell placing wreath
Russell and Kihn place 515H wreath at the Viet Nam Memorial
Yellow roses placed for our deceased class members
515 H display at the Viet Nam Memorial
Fishman and Russell talking with Elizabeth and Bob Dole at WW II memorial
Tom Richards explains the layout of the Belvoir OCS compound
Ft. Belvoir OCS compound area as it looks in 2014
515 H reunion members at the OCS compound
"Call an Ambulance!" I think we're going to need it.
Dinner at the Ft. Belvoir Officer's Club
Cake anyone?
Roger that was trival!
Jack Mudd, Bob Boucher and Dick LaFontaine - hanging with the Tacs
Tom Dilatush toasts the company and reunion committee
Larry Creekmore explains the OCS training program
Dan Russell introduces the 515H legacy concept
Tac Gustavson addresses the troups
Tac Silhasek
Tac Richards returns the 2nd Platoon flag
Bill Shugarts thanks the reunion committee
Challenge coins Bill Shugarts presented to the participants
Dick LaFontaine, Len Floren, Bob Boucher and Susan Regis (Len's wife)
At the Marine Corps Museum
Retired Marine General Bill Weise briefs 515H
Post Graduation Reunions
1LTs from left to right...Floren, Atkinson, De Long and Hatfield
1LTs Dan Russell and Bob Barnes, Vung Tau, Viet Nam 1970
1LTs Mark DeLong and Dan Russell, Long Bin Viet Nam 1970
John Van Nostrand, Kirby Atkinson and Tom Harvey 1970
Post Viet Nam visit with Len Floren
Dan Russell, Stephen Furste and friend - Eli Lilly - 1984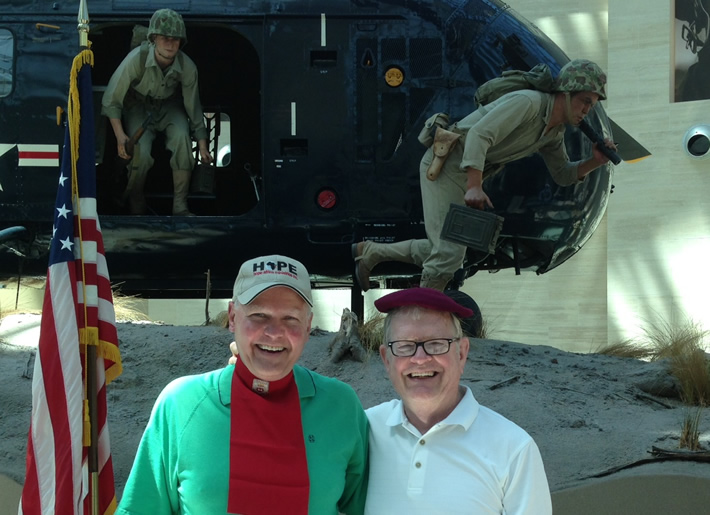 Bill Shugarts and Buck Bodwell - Quantico Marine Museum - May, 2013
Kirby Atkinson and Larry Creekmore - Monroe, Georgia - June, 2013
Bill Shugarts and Roger Harris - Quantico Marine Museum - June, 2013
Dick Eberhart and Buck Bodwell - Royal Thai Restaurant Dallas, Tx - July, 2013
Bill Shugarts and Mike Kihn - Viet Nam War Memorial - July, 2013
Bill Shugarts and Jeff Fishman- Quantico Marine Museum - August, 2013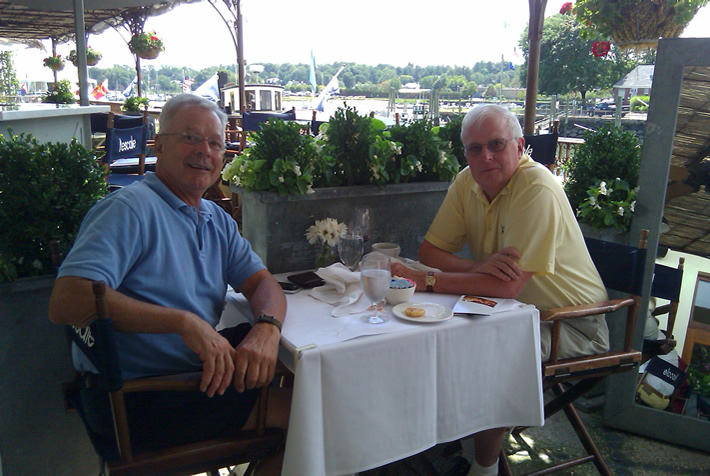 Tom Harvey and Len Floren - L'Escale Restaurant, Greenwich, Ct. - August, 2013
Dan Russell and Steve Furste - Harry and Izzy's Restaurant, Indianapolis, In. - September, 2013
Buck Bodwell and Roger Harris - Boychiks Deli - Glen Allen, Va. - September, 2013
Buck Bodwell, Laura and Bob Barnes - Salisbury Country Club - Richmond Va. - September, 2013
Dan Russell, Bill Shugarts, Steve Furste - Nordstroms Bistro Restaurant - Indianapolis, IN - September, 2013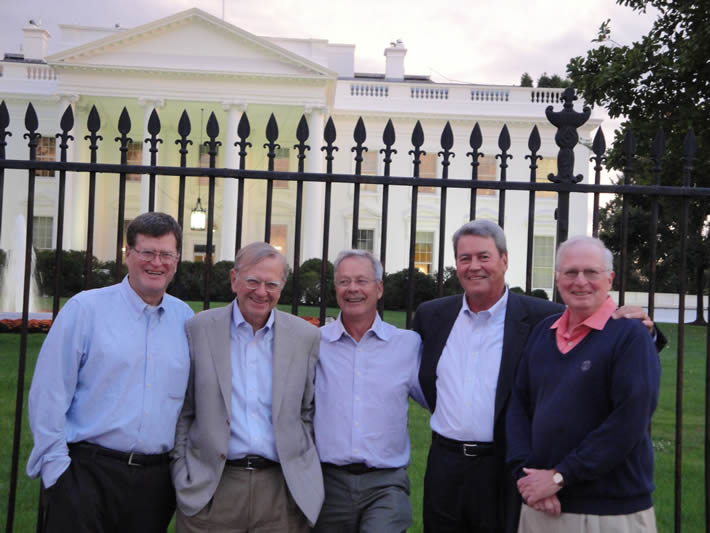 Mark DeLong, John Hatfield, Tom Harvey, Kirby Atkinson and Len Floren - Washington, D.C.- October, 2013
Mark DeLong Tom Harvey, - Eden Park, Cincinatti, Oh.- November 2013
David Callan and Bill Shugarts - Spingfield, Va..- December 2013
Susan Regis (Len's wife) and Mark DeLong, Susie DeLong and Len Floren - Alfresco Restaurant - Palm Beach, Florida - March, 2014
August 2014 Mini-Reuniton - Bill Shugarts, Jeff Fishman and Tom Dilitush
July Mini-Reuniton - Bill Shugarts and Bill Oster